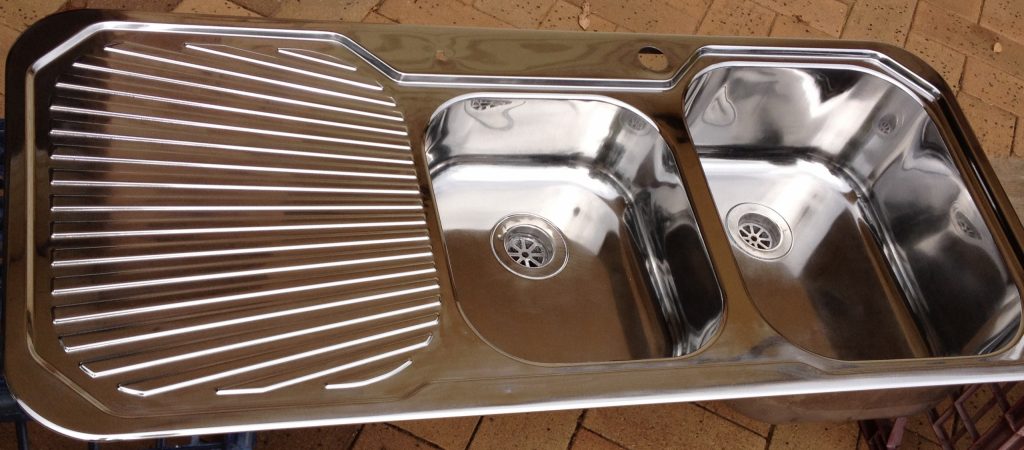 Drill mounted stainless steel polishing kits
It's going to cost an arm and a leg to replace the sink. Maybe not. Using the following products, the sink can be rescued and restored to its former glory.  
Stainless Steel sanding preparation and polishing kit. This polishing kit, used with an electric hand drill, is ideal for use on stainless steel with reflective finishes like sinks, cooker hoods, motorcycle and car exhausts etc. It will bring the surface up to a mirror finish.
The kit consists of:
Polishing Wheels, cylinder, dome and goblet wheels used with cutting and finishing compounds to produce a very high finish to you dull, scratched sink.
Included in the kit are abrasives for preparing the surface should there be deep scratches that require linishing before the polishing process.
There is also a spindle Adaptor that used with your drill machine to secure the 100mm cutting and finishing wheels to.
Vienne Lime – Whiting Powder is to remove residue compound from your stainless steel surface whilst polishing. Especially between compounds so you don't contaminate the separate compounds. It's easily applied using the microfibre cloth.
To finish off your job use the metal polish provided that will provide you with a brilliant finishing touch.
Reviews:
Restore your stainless steel sink to NEW!!
5
Worked Wonders
Posted by Unknown
I ordered the SS repair and polishing kit (SSPK-4002) to polish up a 30 year old SS kitchen sink because due to its size I could not replace it. This kit brought the sink to pretty much as new condition – very shiny. Worked wonders and my wife is delighted with the result. Used 600 grit followed by 1200 grit wet/dry sandpaper to remove fine scratches. Then polishing using the grey bar followed by white bar on the polishing wheels and final wipe using the liquid reflect on microfiber cloth. Highly recommend this product.
5
delighted
Posted by Paul
I ordered a kitchen sink renovation "kit" to be used with power drill, from you some time back. Just a quick note to let you know I am delighted with the result; it has brought the sink (24 years old) back to as-new condition. My wife is also extremely happy as we were on the verge of buying a new one and any decent sink is in the order of $500-$700. No need to now. There is also enough product to do touch ups, if required, in the future.
I even enjoyed the exercise with the drill as you can see the results as you go!
Thanks again,
Paul
Melbourne
Save you Time: Here are some links to kits