Forever Car Care Products (FCCP) uses specially formulated dyes instead of silicone to bring back the life to faded black bumpers, trim, tires, bed liners and more! …and they hold the color much longer and help protect against environmental elements such as UV rays. What's more, Forever BLACK™ products do not pick up or attract road grime or dust!
Environmental elements can be damaging to any vehicles, fading, black trim, bumpers, tires, bed liners, and other exterior parts. FCCP revive the appearance of plastic, rubber and vinyl while protecting against harsh UV rays.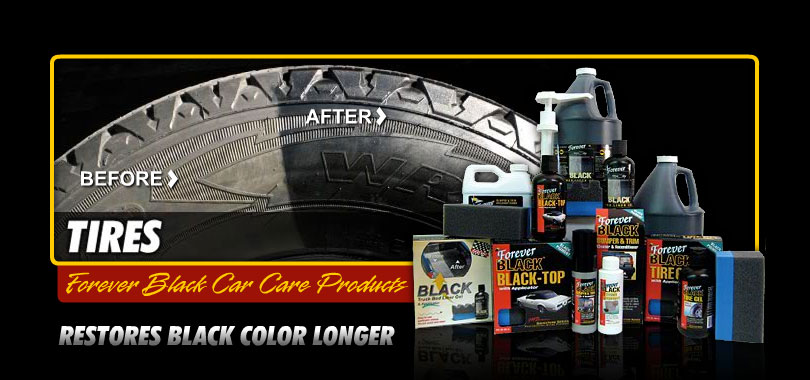 Forever BLACK™ Tire Gel
Forever BLACK™ Tire Gel, unlike all other tire dressings on the market, is a black pigmented polymer. Restore the faded bronze look of your tires to a rich black luster. Say goodbye to messy sprays! Our handheld applicator eliminates the mess of oversprays. You'll be amazed! One easy application will protect and restore your tires to their original brilliant appearance.
Great product…
Great product coverage good just a shame it's a matt finish.

Covers and lasts a long time, shame it doesn't have more of a gloss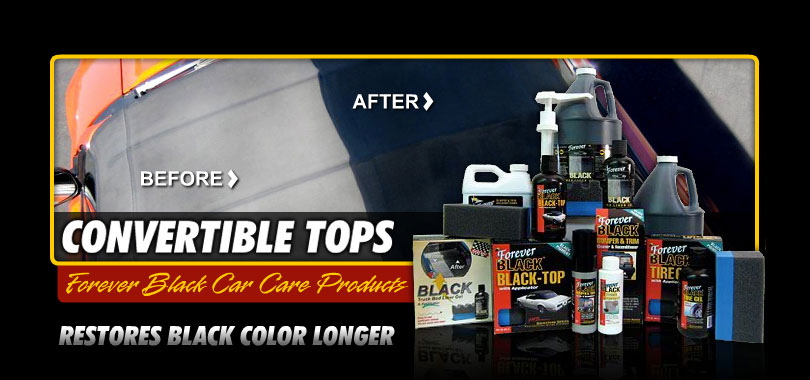 Forever BLACK™ Black-Top gel
Forever BLACK™ Black-Top gel will rejuvenate your faded sun-damaged tops (vinyl, convertible, bimini and soft tops) to a rich black luster. This environmentally friendly, silicone-free, black-pigmented polymer will keep your vehicle in tip "top" condition. With built-in UV protectants, Black-Top gel will protect your top from further sun damage.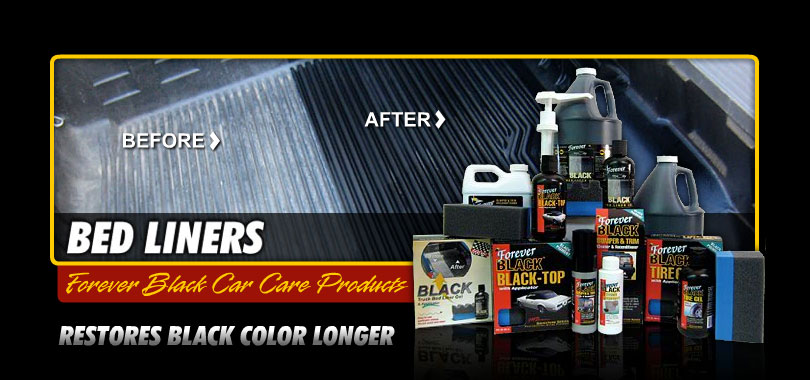 Forever BLACK™ Truck Bed Liner Gel
Forever BLACK™ Truck Bed Liner Gel gives your bed liner a new look with one easy application. This silicone-free gel restores your liner's rich luster. The non-slippery surface can last at least 6 months under normal conditions.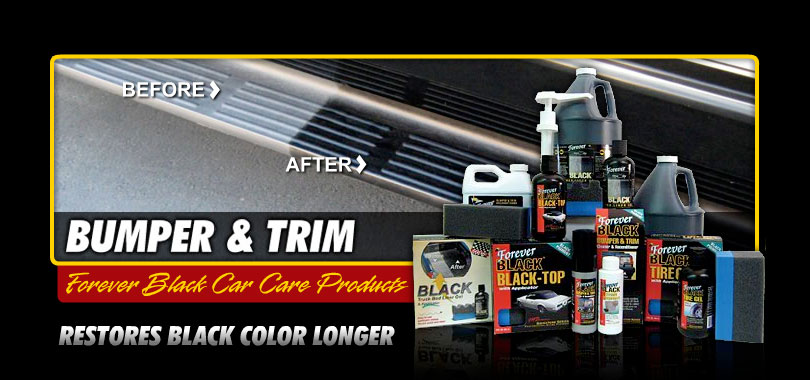 Forever BLACK™ Bumper & Trim Cleaner and Reconditioner
Forever BLACK™ Bumper & Trim Cleaner and Reconditioner has become America's #1 choice for restoring black bumpers & trim. Permanently recolor and protect all black plastic, vinyl & rubber surfaces on your car without silicone. We use the same chemicals that the manufacturers use. This product does not attract dust. Protects against U.V. damage.
Reviews
"Ok, your Forever BLACK Bumper & Trim Reconditioner is about the greatest thing I have ever found for use on a car or truck. The Forever BLACK Bed Liner Gel also worked very well on my spray-in Rhino liner. Thank you for all of your help, support and for being part of such a great product!"
Russ, South Carolina
"We own a 1991 Honda. The paint was failing and my wife was lobbying for a new car. However, the car still drives great. We decided to get a paint job. Once we had the car painted, the side moldings and bumpers looked really bad – mottled and gray. My wife googled and found your product. It really made a difference. We used the Forever BLACK Bumper & Trim Reconditioner and now the car looks like its brand new. I liked the Bumper & Trim Reconditioner's applicator for spreading the product around. It was easy to control and to achieve an even finish. So, with your help our old car looks new again and I'm not making car payments! I'm glad we found you!"
Bill, Louisiana
"I recently purchased some Forever BLACK Bumper & Trim Reconditioner for my wife's car. The vinyl was very faded and going white. After applying the Bumper & Trim Reconditioner it has transformed her car. I was amazed with the results. I have used many vinyl treatments, but this beats them hands down. I will recommend your products to everyone!"
Ryan, Republic of Ireland
"I recently used the Forever BLACK Bumper & Trim Reconditioner on a 21 year old Renault 5. I wasn't sure if it would work as the bumpers and side trims were faded to white. After a few applications, the car looked brilliant and all of the plastic bumpers and side panels looked like new. I have had neighbors asking if I have had the car professionally restored – that's how good it looks! I just wanted to say what a great product this is and I have and will continue to recommend this product to everyone I know.
Thanks very much for an item that does exactly what it says it does on the bottle."
Michael, via email
Man this stuff is fan-fucken-tastic!!
It's so easy to apply
A little goes along way
Dries almost instantly
Transformed all the faded and cracked window rubbers
and trims to like new finish
Totally black after use
Highly recommend!!

Great product, just ensure you prep the surface area very thoroughly. Also recommend taping off the area to be treated, especially if you don't have a steady hand.

Have not used latest purchase, but have used same product for 15 yrs and am satisfied with the end finish.